1984-1988
1990-1999
2001-2008
2009-2013
2014
2015-2017
2018
2019
2020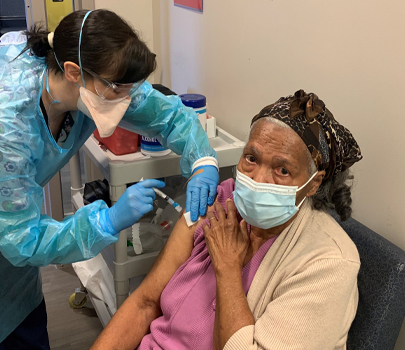 2021
2022
May 24, 1984
The WACAP Community Health Clinic, a program of the Windham Area Community Action Program, Inc. opens its doors to provide free ambulatory primary and preventative health services to low-income persons. With an initial grant of $50,000 from the CT Department of Human Resources, services are provided 16 hours per week at the 900-square-foot "White House" on the grounds of Windham Hospital.
---
1985
The clinic expands to 20 hours per week with one session provided at the Windham Heights Housing Project.
---
1987
1,387 patient visits are provided at both sites by .2 FTE Nurse Practitioners and .1 FTE physicians.
---
1988
Health Care for the Homeless funding establishes a clinic at the WACAP Emergency Shelter in Danielson.
1990
WACAP Community Health Clinic receives additional state funding enabling services to expand to 35 hours per week.
---
1991
A new corporation, WACAP Community Services Health Center, Inc. is organized and incorporated in accordance with FQHC requirements for Board Composition.
---
1993
Federal 330 grant funding is finally secured after three attempts. The Danielson and Norwich sites receive start-up funding under the State Community Health Center Expansion program. The Danielson site moves out of the shelter into the Broad Street location.
---
1994
WACAP Community Services Health Center, Inc. changes its name to HealthFirst, Inc. The Norwich site becomes operational in a small suite over the Backus Hospital Emergency Department. The two Windham sites are consolidated into a newly renovated 8,000-square-foot location in October 1994.
---
1995
HealthFirst, Inc. provides 10,500 visits for FY 1994-95 with 6.3 FTE provider staff (Physicians and Nurse Practitioners).
---
1996
With receipt of state bond funds, space is outfitted at the Willimantic site to house the new dental program.
---
1998
The organization officially changes its name to Generations Family Health Center, Inc. A significant growth in patient volume is noted with patient visits over 25,000 at the three full-time health centers with a total budget of $3 million.
---
1999
The Norwich Health Care for the Homeless program hits the road on the Backus Hospital mobile van.
2001
The first full-time Executive Director, Arvind Shaw, is hired and the Fiscal and Human Resources departments are brought in-house.
---
2002
The Across the Smiles Mobile Dental van begins providing care in the Northeastern corner. More than $1 million in new federal funding is received to expand medical capacity and services to HIV and Homeless populations.
---
2003
The Migrant/Farmworker program is introduced by Generations in the Windham area. Generations participates in the Health Disparities Collaborative, sponsored by the Bureau of Primary Health Care, with a focus on Diabetes. Generations receives federal grants to support the start-up of the Ryan White HIV program and expand Health care to the Homeless services in Willimantic.
---
2004
The Danielson site is relocated to larger quarters at 54 Reynolds Street. With Expanded Medical Capacity funds, the Willimantic site undergoes renovations to add an additional seven exam rooms, lab, and offices.
---
2005
Generations sees over 40,000 patient visits across the service area.
---
2006
Generations receives Department of Children and Families funding to launch a new Foster Care Clinic, which would begin our work in behavioral health care.
---
2007
A Rural Heath Outreach grant is awarded to develop The Across the Smiles-Windham program, providing oral health care to Windham schools and community sites. The Health Center purchases more than three acres in Willimantic, positioning the agency to build a future facility for relocation of services.
---
2008
The Health Care Access and Promotions department expands with the development of the Children with Special Health Care Needs and Smoking Cessation programs. New specialty clinics are implemented at the Willimantic site, providing orthopaedics and women's health services. The Public/Private Partnership begins with a local private dentist in Putnam, increasing access to restorative dental care.
2009
Several major changes occur including Generations implements Behavioral Health Services at its Willimantic site. An interim site in Putnam opens, providing medical and dental services. Planning and design is underway to develop new permanent facilities in Willimantic and in Putnam.
Generations Family Health Center, Inc. re-brands and celebrates 25 Years of Service.
---
2010
Generations reaches several milestones — more than 55,000 visits provided with a $10 million budget and 130 employees.
---
2011
In December 2011, Generations opened its new "state of the art green" facility at 40 Mansfield Avenue in Willimantic. The new site featured health care services under one roof – Medical, Dental, Behavioral Health & Health care Access services as well as Administrative offices.  The other Willimantic sites closed.
---
2012
In August 2012, Generations moved into its new permanent "state of the art green" facility located at 202 Pomfret Street in Putnam. This new site has medical, dental, behavioral health, and health education services under one roof. Generations implemented Electronic Health Records (EHR).
---
2013
In August, in partnership with the town of Putnam, Generations opened a School Based Health Center. at Putnam Middle School. Medical, dental, behavioral health and health education services are offered on-site at the school.
2014
In June, Generations expanded and renovated its Danielson facility. These renovations expanded the facility from six exam rooms to 10, added a triage room, expanded the waiting room, added a conference room, and offices to create the modern, professional health care environment that patients deserve.
In October 2014, the agency celebrated its 30th Anniversary by hosting an Indoor Carnival.  The event raised $21,000 for Generations Patient Assistance fund.
2015
Generations receives recognition and certification as a Patient Centered Medical Home.  This team-oriented approach to care allows patients to have a medical home with increased access and quality.
---
2016
Generations starts its 340b program to partner with local pharmacies to offer reduced prescription costs for uninsured patients.
---
2017
Generations initiates Saturday hours to increase access to care for patients.
The newly formed Fundraising Committee began a fundraising campaign in January 2017 to raise funds to support uninsured/underinsured Diabetic patients. These funds were used to purchase diabetes testing supplies and pay for specialist appointments for foot and eye care.
In the summer of 2017, Generations held an event to honor state Senator Edith Prague, who was one of its founding Board members. The Willimantic conference room was renamed and dedicated as the Edith Prague Community Room.
2018
Generations initiates e-Consults and a Retinopathy program.
In August, Generations kicked off its 35th Anniversary Celebration with a fundraising concert, "Music for the Generations," featuring international Grammy winning artists, Jose Feliciano and Peabo Bryson, on the new Shaboo stage in Willimantic. As a result of the concert, $28,000 was raised for the Generations Patient Assistance fund.
In November, Generations expanded its existing 9,100-square-foot Putnam Health Center by an additional 4,500 square feet to increase access to Medical, Dental, and Behavioral Health services in this medically underserved area of Northeast Connecticut. The new space created a dedicated home for Behavioral Health Services at the Putnam site.
In addition, Generations dedicated its brand-new community room at the Putnam site to Doug Cutler, former Town Administrator of Putnam and a former Generations' Board member.
In November, Generations expands its Putnam School Based Health Center to the High School, offering Behavioral Health Services.
Generations is recognized as a Health Center Quality Leader by HRSA for achieving the best overall clinical performance among all health centers and placed in the top 30 percent of rankings on clinical quality measures.
2019
Generations completes a successful re-accreditation with the Joint Commission. In addition, Generations achieved PCMH (Patient Centered Medical Home) Level 3 recognition and certification.
Additional property adjacent to the Putnam and Willimantic sites is purchased.
Generations begins a Joy in the Workplace initiative to create an environment where all employees feel respected, valued, and heard. 
Generations launched our Chronic Care Management Program that connects patients on Medicare or Medicare and Medicaid with a chronic disease to more care in between regular office visits.
In August, Generations began offering Chiropractic services for patients and outside referrals.
2020
Generations receives PCMH (Patient Centered Medical Home) recognition for its Behavioral Health program.
The Generations Behavioral Health department begins offering Substance Use Disorder treatment services.
In March, Generations responded to the emerging COVID-19 pandemic by launching telehealth services and work-from-home procedures for staff in order to minimize patient and staff exposure to the virus.
Generations served as a trusted voice in the community throughout the pandemic, providing patients and the community with up-to-date information on COVID-19, including information about COVID-19 testing, care, and vaccines.
As a result of the pandemic, Generations received monetary donations as well as PPE for our staff valued at more than $88,000.
Generations administered nearly 8,250 COVID-19 tests to patients and community members.
In December, Generations began offering the COVID-19 vaccine to staff and patients.
Generations continued to serve as a trusted voice in the community during the on-going pandemic, providing patients and the community with up-to-date information on COVID-19, offering testing services, and administration of COVID-19 vaccines and boosters to all eligible groups.
Generations (and health centers nationwide) received funding through the American Rescue Plan Act to expand COVID-19 vaccinations, testing, and treatment as well as strengthen the health center's capacity during the pandemic and beyond, including capital funding for interior renovations of the Willimantic site.
Generations established an RN role across the agency.
Generations is recognized as a Health Center Quality Leader by HRSA for achieving the best overall clinical performance among all health centers and placed in the top 10 percent of rankings on clinical quality measures.
Generations Chief Executive Officer Arvind Shaw officially announced plans for his 2023 retirement.  Arvind was hired as the Agency's first full-time Executive Director in 2001.  The Board initiated a national search process and Melissa Meyers, Generations COO was named new CEO as of Jan. 2023.
In addition to ongoing COVID-19 testing and vaccine services, Generations began prescribing Paxlovid as treatment for eligible patients contracting COVID-19.
Generations' Behavioral Health Department achieved accreditation with the Joint Commission.
In partnership with the Ossen Medicare Outreach, Education, and Advocacy Team, Generations hosted its first Healthy Aging, Healthy Living Expo focused on the needs of older adults, people with disabilities, and caregivers. There were over 42 vendors and 200 attendees.